The new year is a perfect time to turn over a new leaf and take charge of your health or home. It's a great time for reflection and action, as you make space for the new things to come. For most of us, decluttering is one of the easiest ways to manifest new mindsets, as it allows you to let go of things that no longer have value in your daily life.

Do you have items that have been sitting in your attic, basement, cupboards, or closet that you haven't used in the past years? Then, it's time to throw them away, sell them, or donate them! Decluttering can be very therapeutic, but, of course, most homeowners can't do it all in one day. The trick is to slowly carve out time during weekends (or whenever you're free), so you can create a plan that is practical, sustainable, and aligns with your schedule.
First Tip:

The Five Categories for the Items You Don't Want to Keep
Return:
These are for items that have been misplaced in a room. This could be a toothbrush on your kitchen counter or pajamas in the living room. All in all, these items have their own spots in your home.
Recycle:
These are for items that can be recycled, such as paper, plastic, or glass.
Repair:
These are for items that can be repaired, like a missing button on a blouse or an appliance that needs servicing.
Rehome:
These are for items that you can donate to an organization or to someone you know.
Rest:
These are items that can ultimately rest — meaning, you can throw away these things immediately as you've outgrown them. They are simply of no use anymore or can't be repaired/donated.
You can use bins, baskets, or boxes to store your items as you declutter every area in your home. For example, you can designate an area for the containers while considering everything. Or, you can bring the containers to every area while you declutter and categorize as you go. It's also best to set up your containers before you start. It can save you time as you won't need to look for bins, boxes, or baskets while you're decluttering.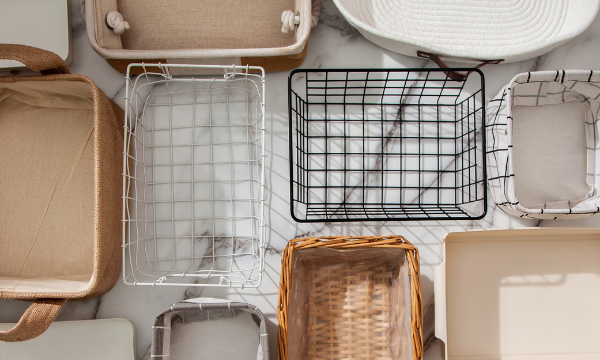 Decluttering an entire home is a big job. Instead, focus on one room or area before moving on to the next space. This can also build confidence and momentum, especially after visually experiencing the success of your work. Read more below for some tips and ideas to get you started!
Start with the bed and make it. Then, go over your nightstands and drawers. Remove anything that doesn't belong there. These can be a pile of books you're done reading, medications that have their own place, or chargers that you usually use in the living room.

If you have a desk or vanity in your bedroom, do those next. Then, toss, donate or recycle any item you no longer use.

Now, it's time to take a deep breath because we'll be doing closets and clothing next.
The easiest way to declutter a closet is to do so by type. This means to start with one clothing category as you go: dresses, blouses, shirts, pants, undergarments, shoes, boots, bags, accessories, etc. Take out everything, lay them in your bed if needed, and decide which ones you'll toss and keep.

Choosing between keeping or donating will be much easier if you look at everything you own per category. You can also use the one-year rule for every piece of clothing you own. If you haven't worn it in the past year, it's very likely that you won't wear it again. Do the same with everything you ended up not keeping. Organize it into the five bins and move on to the next area.
This can equate to the traditional mudroom or foyer — but note that this applies to every entryway — be it huge or small.

Start with desks or side tables, take everything out, and make a quick decision to throw away or keep any item. Next, move on to the hall closet. Categorize every item to clothing, footwear, accessories, etc., and return the things you will keep to their designated spaces.
If your living room gets a lot of use, it may be one of the most challenging rooms to maintain daily — but arguably, the easiest to declutter. This is simply because, for most homes, their living room storages are kept to a minimum — aka bookcases, side tables, and the space under the coffee table, which already have items of their own.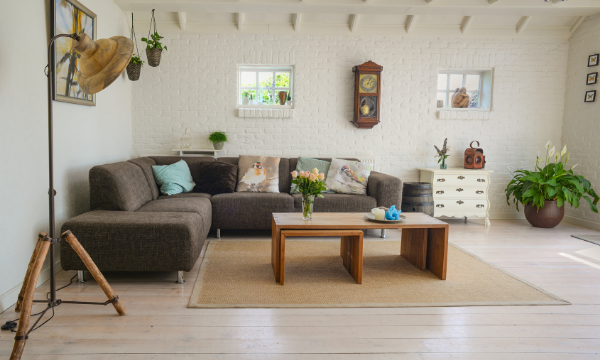 To start:

Go over your console, side tables, and bookcases.

Continue to your coffee table and entertainment system.

Empty each area, assess if they belong there, and categorize it into the bins if needed.

For homes with young kids, you can also create a toy station. This can be a basket or box or bin or a small chest — really, it's up to you! Kids can fill this with toys or everyday articles they bring to the living room. Again, this can help keep your space organized. Plus, it can be a fun activity for your kids as they can change up the contents as often as they like — as long as it fits.

Start with your staple storage spaces, like the pantry, fridge, and dishware cabinets. Then move onto the lower cabinets with utensils, drawers with baking equipment, countertops with lingering dishes, and the space under the kitchen sink.

Donate or toss out old kitchen utensils and dishes that are either broken, you no longer use, or have in multiples. You can also use drawer inserts to keep things organized after decluttering.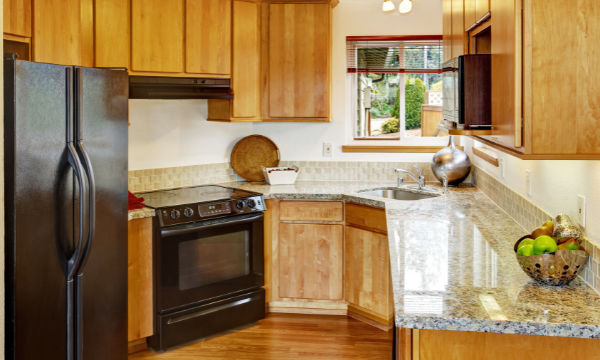 The Bathroom / Laundry Room / Basement / Other Rooms
Start with one area at a time. For example, you can begin with your bathrooms, particularly your medicine cabinet. Throw away expired medications, skincare products, makeup, etc. If you already know how to arrange them based on your needs, then please absolutely do that.

Afterward, do the same as you go over every other room in your home. Once you're done editing your items, everything that fell out of place can be categorized into your bins.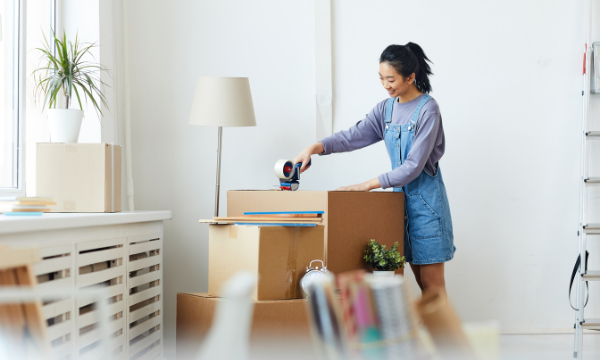 Whether it's under the guise of spring cleaning or simply a new-year-new-you approach, a good, deep purge doesn't always have to be a chore. Be realistic with your time and lifestyle. Think about the items you use every day, the items you use occasionally, and the items you rarely use. Give yourself permission to donate or throw away things you think are no longer necessary in your home.

So today, empty your fridge and throw out expired condiments, box up any outgrown clothes to donate or give to someone and restyle your counters and storage if needed. It's time to turn over a new leaf!
Planning to refresh and upgrade your home this year? We are ready to help you choose the perfect set of counters, cabinets, and fixtures to complement your home. From the design process to installation, we're by your side. Count on us for all of your custom kitchen renovation needs!

P.S. Let's talk about your home renovation project, and we'll provide you with the resources you need to ensure your experience is simple and pleasant every step of the way.
Happy Remodeling and Happy New Year!
Risegate | Photo Credit: Cambria Quartz